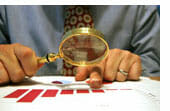 [Q] I've been analyzing all my past lottery results over the years and whilst I know these things are supposed to be random, there is a pattern.
Some numbers have definitely been drawn more often than others, and some have definitely appeared in the jackpot combination more than others. Should I play those numbers?
[A] You're absolutely right.
Do you remember rolling a dice at school and charting the results? You tallied up each number as it was rolled, and then drew a little bar graph of the results. And the graph made pretty much a straight line proving that all the numbers had the same chance of being rolled.
Or did it?
Actually your graph was pretty wonky – oh yes it was! But don't take offense, I'm sure you drew yours just as well as I did ;-).
But all of our graphs were actually pretty wonky, and wonky in different ways too. If we took all our results together and drew another graph covering all of them, then we'd have one that was smoother. But still not perfectly straight.
We all get caught up in what we think we learned about 'averages'.
But the fact is if you take any set of past results from any lottery for any period in time, you will find the same thing. Some results appear more or less often than others – a wonky graph. And that's because this is exactly the sort of result that is entirely normal for a random process. If it were not possible for this to happen then the results would not be random (huh?, maybe read that sentence again 😉 ).
With randomness if you actually repeat the 'test' enough times then every possible set of results would happen. Not just every result, but every different wonky graph for each set of results you pull out. So everything from never winning a single thing on the lottery, to hitting the jackpot every single draw for your whole life!
This is how random works. Just because the current state of play is 'less likely than the true average' does not mean there is anything unusual going on.
The weak point in the chain here is actually our brains – they love to see patterns in randomness. That's the nature of our brains, we just can't help trying to make a nice comfortable order out of things. And when it happens to be numbers we're trying to make order of we're even worse than ever!
So the bottom line of all this is whether or not the number patterns we're seeing really mean anything. And that's not as easy to determine as you might think. Because, as we've covered, random does weird things anyway.