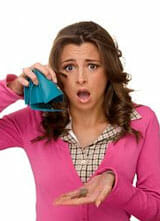 It can be more convenient but playing the lottery online is NOT always the best option.
There are various online lottery ticket sellers (TheLotter, OSA etc) who will sell you tickets for lottery games from around the world. That's great – you can play in those big jackpot games that aren't available in your country, right?
Yes you can. But boy do you pay for it.
Online ticket sellers are at the very least 50% more expensive. Some as much as 200%-300%+.
Yes they have to make a profit – but 300% (or more!) is obscene.
To put it another way. If you didn't have to pay those charges, your chances of winning would be TRIPLED for exactly the same cost.
So before you blow your winning chances on overpriced tickets, here's my advice…
1. Why Do You Want To Play That Lottery?
If you're trying to buy tickets for another countries lottery, be clear on why you are playing that game.
It's not wrong, so long as you have thought about your playing strategy, and chosen the best game (my tool gives you the lottery odds compared) and time to play.
2. Is There A Better Way To Play The Lottery Online?
Probably.
You might be able to buy tickets online on the official website for that lottery company. But this usually only applies to playing lottery games you can buy tickets for locally.
If you can, it's extremely unlikely to cost any more than the standard ticket price. And may give you extra convenience such as being able to store a bunch of commonly used entries too.
Alternatively there may be a syndicate you can join. A lottery syndicate will manage everything for you, and give you a better chance of winning by pooling entries.
It will cost you slightly more but with the benefit of pooling thrown in, it can mean way better value than buying from an online ticket agent. (These are the syndicates I have personally used and can recommend).
If you can't buy direct, and there isn't a syndicate available, AND you're determined to play that particular lottery – then your only other option is compare prices of online lottery ticket agents.
Or to find a new pen pal who lives in that country!