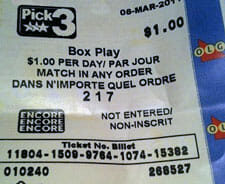 Yes, the Pick 3 lottery is much easier to win. But as a lottery game, it pretty much sucks.
Because you might just as well be feeding your money into a slot machine.
The best you can ever hope for with most Pick 3 games is a fairly small win.
And that's the big prize!
But those lower tier prizes arrive regular enough to keep you playing… after all, you won again this week right..?
What happens to those small wins? They're so small, they just go back in the machine.
You Never Really Win With Pick 3
But you never win big, because there simply is no big with the Pick 3 lottery.
Sure, you can play Pick 3 just for fun. But if you're playing for the jackpot, then you're playing the wrong game.
For most players, one of the main reasons to play the lottery is the chance of that 'big win'. The life changing jackpot.
Pick 3 type games can never give you that.
So What Can You Do?
The real way to win the Pick 3 lottery, is to stop playing it and choose a better game.
[They won't advise you to do that at the lottery counter of course, or in those trashy Pick 3 lottery systems either]
But take your typical Pick 5 or 6 game. Not only do they have life changing jackpots pretty much every week. These games also have plenty of those smaller prizes too.
Now the odds are going to be tougher than they are with Pick 3 for similar smaller prizes, but they won't be radically different.
But what you really gain is the chance of winning the bigger prizes too – at no extra cost.
The Right Game Can Make The Difference Between Winning & Losing
Wisely choosing the right game to play (for you) is the most important step any lottery player can take.
So how do you choose a better game to play?
Get my free lottery tips – and I'll show you how exactly how, and take you through specific examples.
Don't just play what looks the shiniest, or has the biggest jackpot when you reach the lottery terminal. Because that doesn't make it the best game for you.