Do you know anything about Freelotto.com in the USA? Are they genuine? How can a lottery really give away big prizes if they don't get any money selling tickets?
There are a lot of free online lottery sites out there. Most give you an extremely poor chance of winning anything. The honesty of some is questionable. But it's actually a very complex question to answer, and the answer changes all the time. If you want to play these free online lotteries, you must read the only guide to have thoroughly researched the subject – the 'Free Online Lotteries Guide'.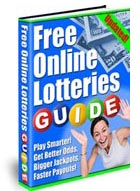 It's a fast moving industry, but the guide is regularly updated – they will tell you the only free lotteries you should play, and the ones to stay away from. It will cost you a few dollars (hundreds of hours of research go in to keeping it up to date!), but frankly it is a bargain and will save you so much more in the long term. It's not worth playing for free without it.
Buy it now directly from the publishers here: 'Free Online Lotteries Guide'.
Update
Whilst this was a good guide book, it hasn't been updated in far too long now. So I can't recommend it anymore, it's just too out of date.
There are basically NO free lotto sites that I personally recommend. You have to remember these sites are not charities, they are in business to make money. So they are not the same as playing a regular lottery game yet cost nothing..!
You 'pay' to play these free games with your time. The entry process will involve lots of adverts, and most likely you'll get lots of emails too. You will also have to check the results yourself. This aspect of the small print is often missed. Typically they do NOT check the results for you. If you don't notice you won something and make a claim then you don't get paid. Why? Because they want it to be difficult, and they want you to feel the risk of missing out on claiming a prize. That makes it easier to sell you the upgraded membership where you pay to play!
So if 10 minutes of your time is worth more than a dollar, I recommend playing a normal paid lottery game instead.