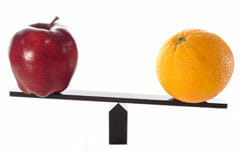 It's a question I get asked a lot.
Along with simply 'which lottery is the best?' (to which my tongue in cheek answer is… 'the lottery that just paid you the jackpot.')
The Best Odds Of Winning
But it is a serious question, because the odds of the game are the number one factor that determine if you win or lose.
The lottery with the best odds is usually the one with the fewest balls drawn. So a pick 3 game is of course easier to win than a pick 4 game. Which is why the pick 3 prizes are much smaller.
Prize Matters
This is the hidden half of this question.
Because, yes you really want the game with the best odds. But you also want the jackpot to be big enough to get you excited. And the key is how you balance the two.
Yes, it's great to win the pick 3 jackpot – but if winning that money won't change your life at all, then you're not playing the right game.
Compare Lottery Games
To compare lottery games well you need to understand the odds, and have an idea of how big a win would change your life. To make this super easy, use my tool to help you compare lottery odds.
Then you can pick which lottery game has the best odds for you.