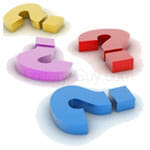 I get asked this type of question quite often.
Surprisingly the answer depends on you.
The UK has various lottery games, from Hot Picks to Thunderball. All with different odds, all with different prize divisions and amounts. Some with very different methods of play. So it's certainly confusing!
All lottery games balance the odds against size of the jackpot, i.e. bigger jackpot = harder to win. So the answer really depends on how big a prize you want to win.
Here's Why…
Ignoring Hot Picks for just a moment.
Daily Play actually gives you the best odds of winning ANY prize (at 1 in 7.4), and the best odds of winning the top prize (1 in 888,030).
But of course that top prize is much smaller than the other games at just £30,000 – bigger jackpots are harder to win, right?
Hot Picks confuses this slightly too as you have to specifically choose which prize level you want to play for, Match 1, Match 2 etc. Most of the prizes are too small to bother (you may as well just play a slot machine!). But…
Pick 4 odds are 1 in 14,126 for a £7,000 prize
Pick 5 odds are 1 in 317,814 for a £130,000 prize
So both are actually easier to win the big prize than Daily Play. But remember with Hot Picks there are NO other prizes for matching less balls.
So while Pick 5 is nearly 3 times easier to win the big prize than Daily Play, and the prize is more than 4 times bigger – it's Match all 5 or you get nothing at all.
So What Can You Do..?
All of which means – choose the game with the best odds, that offers a jackpot that's big enough for YOU. Don't simply go for the game with the biggest jackpot.
To help you figure out which game gives you the best chances of winning use my new lottery compare tool.
And, get in touch if you have any questions about the lottery.