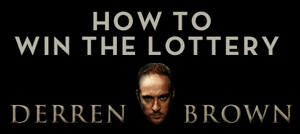 Derren sadly disappointed on this one – his 'How To Win The Lottery' show actually failed to deliver on the fundamental promise made earlier in the week.
He entertained as usual – the guy is a great showman – but he didn't actually tell us how the trick was done. All was NOT revealed. Which is fine. Except that is exactly what we were promised!
He did of course misdirect and entertain, which is the nature and fun of the show.
Derren tells a small group of people they can predict lottery numbers, and they become genuinely impressed at being 'one out'. Being one out is also known as being wrong of course. Nobody wins a prize for nearly matching a number! (But even letting them get 'close' is pure Derren at work of course)
The important facts to remember are:-
Derren is not a psychic or mystic (he actually debunks people who claim to be!)
Derren cannot predict lottery results.
It's a trick, that's what he does.
Derren ended the show as 'whatever you choose to believe is up to you', but we were cheated on the promise of him giving us the real answer. And that was an unusually flat and diasappointing ending to the illusion.
There was no 'reveal' and then further twist to leave us confounded and impressed.
Instead we're simply left with the reality of 'oh, so it was just a cheap camera trick then'.
Shame.
[P.S. If you want to know more about how Derren does his crazy mind voodoo check out this video]