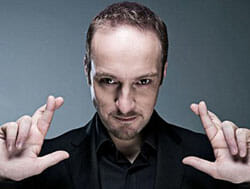 On Wednesday night Derren Brown predicted all 6 of the UK Lotto numbers live on TV.
He got all 6 correct.
Or did he…
Derren is a brilliant entertainer, and worth seeing live on stage if ever you get the chance.
But remember, he is an illusionist and entertainer. He doesn't really have magic powers, any more than David Blaine, Uri Geller or Paul Daniels.
All will be revealed on Friday night.
So how do you think he did it?
[P.S. If you want to know more about how Derren does his crazy mind voodoo check out this video]