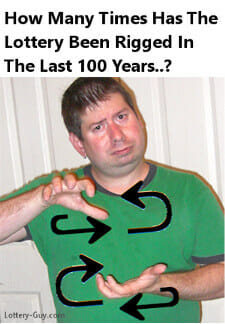 The number of genuine attempts to 'rig the lottery' can be counted on the fingers of one hand — and still leave fingers left over for future use.
Why? Because in any country where the Government is generally not corrupt the national and state lottery games have overseers, auditors and just plain lots of people involved who aren't dishonest and 'notice stuff'.
Take the recently publicised fraud case with the Iowa Lottery's Hot Lotto game – the perpetrators didn't receive a cent of the $16.5 Million jackpot they were after. Oh, and they got caught.
There's a big difference between 'gaming the system' (i.e. legally taking advantage of a loophole) and rigging the game of course. This one falls firmly into the latter category.
The Tale Of The Iowa Hot Lotto Fraud
Eddie Tipton was the Senior Information Security Consultant at MUSL (the Multi-State Lottery Association) in 2010, i.e. the guys who actually run the Hot Lotto draw for Iowa State. He worked there from 2003-2015. For the last two years he was the Director of Information Security.
But here's Eddie's bio from MUSL's staff list back in 2010:-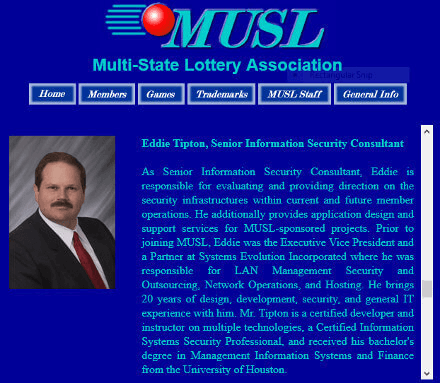 Now the Iowa Hot Lotto is a computer based draw, which is why Eddie is so significant to this case and why I've introduced him so early on in this tale of woe.
SIDENOTE: I don't like computer based draws either but this case is NOT a useful "there, you see!" case to make the point that computer draws are evil. Because it's just as difficult to rig a computer draw as it is a mechanical draw. The draw machine computers are not connected to any public or even private internal networks. They stand alone in secure sealed rooms with access restricted to only a few very high security individuals, and under video surveillance. You can't hack one over the internet!
So, Eddie was one of only 5 people with the required security to access the draw machine room.
How It Went Down…
There is some speculation over the exact details but this case has already been to court and Eddie is guilty so we can be fairly sure this is pretty accurate.
It's believed that Eddie firstly tampered with the security camera system monitoring the draw machine room. It was adjusted to only capture 1 frame of video every 60 seconds – making it extremely difficult to see what someone on camera is actually doing, particularly if they know they are only being snapped once every minute!
So it was on the 20th November 2010 that Eddie accessed the room supposedly just to make a change to the clock time on the machine for Daylight Savings Time. But during that visit it's believed that he used a USB stick to install self-destructing software that fixed the draw result for 29th December 2010. I guess this is the 'modern equivalent' of the physical ball tampering that occurred in the 666 Pennsylvania lottery fix in the 1980's.
It may sound like pure science fiction to some, but Eddie was known to be fascinated with rootkits (software for gaining unauthorized levels of access to a computer). And with over 20 years of security, development and general I.T. experience it seems fairly clear he had the know-how. He'd even given talks about this kind of thing at conferences.
Note that Eddie is actually described in news reports as the Director of Information Security, because ironically he was promoted in 2014, long after the 'rigging' itself occurred.
What About The Ticket?
OK, so you've fixed the result – but you still need a ticket if you're going to win.
Which is where the authorities get Eddie again. Lottery employees are not legally allowed to buy lottery tickets. For fairly obvious reasons.
But in surveillance footage released in October 2014, despite probable attempts to duck the camera, Eddie is identified as being the guy buying the winning ticket.
He says he wasn't even in town so it couldn't be him – his cellphone records however say differently! As did the fact his car was parked outside at the time, and his voice on the video was also matched.
So Who Made The Claim?
This is where the whole plan really came apart.
Firstly someone phoned the lottery claim line on 9th November 2011 (yup, almost a year later) to say they had the $16.5 Million winning ticket. His name was Philip Johnston from Quebec City, Canada, and he was able to provide the 15 digit serial number from that ticket. But Philip said he was too ill to travel to Iowa to claim in person – could you just send me the check… After failing a couple of simple security questions relating to his age and what he was wearing at the time of buying the ticket, his claim went no further.
Then he called again 2 weeks later. This time he revealed he wasn't the real ticket holder but was claiming on their behalf under a trust called 'Hexham Investments'. And so, a couple of lawyers from a Des Moines law firm turned up at Iowa Lottery HQ – just 2 hours before the ticket was due to expire – to make a claim.
Another mistake, as Iowa doesn't allow claims by anonymous trust.
It gets even messier.
The ticket was signed on the back by a 'Crawford Shaw' as Trustee of 'Hexam Investments Trust' (a trust based out of Belize for which Philip Johnston was the principle). It turns out the Des Moines lawyers had been engaged by Crawford who himself was a New York lawyer, but Crawford has mispelled the Trust name on the ticket – Hexam instead of Hexham! So the claim was stalled again.
Next Crawford himself turns up at Lottery HQ on 17th January 2012 but Iowa refuse to pay unless he reveals who the actual ticket holder is. A mere 9 days later the claim is officially withdrawn.
Then everything goes quiet for 2 years. During which it's now clear that the investigation never stopped.
Connecting The Dots
In that 2 years, Johnston (who originally claimed by phone) is connected to Robert Sonfield and Robert Rhodes who he asked to help him claim the ticket for someone else who wanted anonymity.
After that fell apart Sonfield then sent the ticket to old friend Crawford for help.
But it turns out that Rhodes was also a friend of 20 years of MUSL security guy Eddie. Which pretty much wrapped up the case.
Guilty
All of which lead up to Eddie's court case in July 2015 where the jury didn't have too much trouble returning a guilty verdict.
Sentencing was scheduled for 9th September with a potential 10 years in prison.
So Is It Possible To Rig The Lottery?
Of course it's possible – Eddie did it, didn't he?
But just look at the position you have to be in and the knowledge you need to be able to attempt it. And security procedures have now been made even tighter as a result of this case.
Then of course there's the small problem of actually getting away with it without ending up in prison!
Even if these guys had been a lot cleverer through the claim process, there's still a good chance someone would notice and raise a red flag down the line. What happens when the lottery security guy mysteriously resigns and drives off into the sunset in his brand new Lamborghini – what does he tell his wife and kids, that he got a nice leaving bonus!? People notice and ask questions when millions of dollars unexpectedly show up in bank accounts.
Update: Sentencing
As of 9th September 2015 the judge has now passed sentence on the case. Eddie just got given 10 years in prison – this was made up of 5 years for each of 2 counts of fraud, to run back to back.
He looked surprisingly calm and relaxed as he left the court room – his only comment was "Shock. That's it".
An appeal has already been filed.
Update February 2016: Iowa Lottery & MUSL Sued
Larry Dawson has now sued as he won a $6 million jackpot on Hot Lotto months after the rigged draw happened. This argument is that his rollover jackpot should have been significantly bigger because Tipton should not have won that fixed draw. It could have been as much as $16 Million instead. That money actually went unclaimed in the end and was redistributed to be used for promotional/special draws amongst the participating states.
Update March 2016: Eddie's Brother Is Charged
Tommy Tipton, brother of Eddie, has now been charged – he claimed a $568,990 share of the Colorado Lottery jackpot in 2005.
Update April 2017: Robert Rhodes Pleads Guilty
So whilst Eddie continues to plead his innocence, his friend and alleged partner in crime, Robert Rhodes has now pleaded guilty. Rhodes took over a year to turn against Tipton but finally gave in when he realised Tipton was not going to do a deal and own up. He now says that Tipton told him that he'd rigged games for certain dates, and in 2007 gave him tickets for one of the Wisconsin Megabucks draws. He won a $783,000 jackpot from those tickets.
Prosecutors now say that Eddie managed to defraud 7 different lottery games across 5 states between 2005 and 2011.
Rhodes was sentenced to 6 months home detention and will be required to pay $409,000 in restitution. He will testify at Tipton's trial on 10 Jul 2017 in Iowa, and against Tommy too.
Update June 2017: Now Eddie Pleads Guilty In Wisconsin..!
Looks like his friend giving him up was enough to tip the balance. So despite 2 years of claiming he was innocent, Eddie Tipton has now entered a guilty plea in a Madison courtroom. This was for one count of theft plus one count of a computer crime. Confessing to fixing lottery draws in Colorado, Wisconsin, Kansas and Oklahoma (in addition to Iowa), he said:-
"I wrote software that included code that allowed me to technically predict winning numbers and I gave those numbers to other individuals who then won the lottery and shared those winnings with me"
Wisconsin sentencing has been set for 21 September 2017.
Update August 2017: Second Conviction Sentencing
Eddie was sentenced to 25 years in prison, and both he and Tommy will be required to pay $3 Million back in restitution.
Update January 2019: Iowa Class Action Lawsuit
Wow, this just keeps running. A judge has now granted a class-action lawsuit which is claiming that people who bought 7.2 million+ tickets across 19 different states have been cheated as a result of the rigged lottery result. The lottery association argued that this is unmanageable as there is no way to identify those affected. Despite that the judge deemed a class action as the best way forward. The trial has been set for 11 March.
Note: At this stage documents have not yet been filed to indicate how anyone affected can join the suit.
Update June 2019: Get The Full Scoop Direct From Former Lottery CEO Terry Rich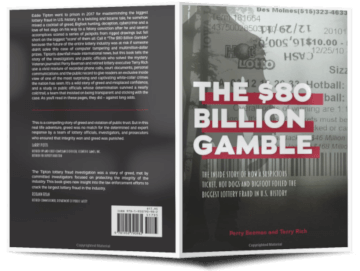 Now you can read the full inside story in a new book co-authored by Terry Rich who was the CEO of the Iowa Lottery at the time.
"Great read!"
"Super interesting backstory!"
"Couldn't put it down!"
You can get the book on Amazon here
Update July 2019: Colorado Winner Denied Defrauded Share Of Jackpot
This is the hidden side of what rigging the lottery does.
Amir Massihzadeh from Boulder, Colorado had a nice win way back in 2005. He was happy, he got $568,990. Until in September 2017 when he discovered that both of the other 2 winning tickets were down to the Tipton brothers.
So Amir should have got the full jackpot, right? Well, maybe, and that's what he and his lawyers thought.
But the Colorado Court of Appeals has just said 'no'. They say the lottery company paid a prize and that's the end of their legal obligation. Totally unfair, or just be happy with what you got?
So can you rig the lottery? Sure. But could anyone ever actually get away with it too? What do you think?