Guess what, today is 10/11/12… oooh, spooky 😉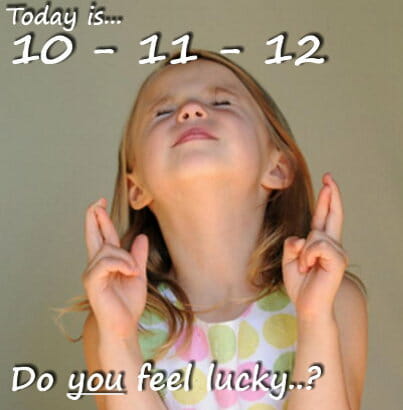 So will you be playing any particular special numbers tonight..?
I'm willing to bet there's going to be an awful lot of people playing the numbers 10, 11 and 12.
And you know what that means?
That's right. Every time otherwise sensible people play popular numbers, another lottery fairy dies.
Or to put it another way – if you play popular numbers you run a very significant risk of having to share your lovely jumbo jackpot with a whole boat load of other winners.
Because combinations made up of very popular numbers are regularly played by hundreds of people in every lottery game around the world. Hundreds of people who all seem completely oblivious to the fact that hundreds of other people are doing the very same thing!
Which can turn your 'jumbo' jackpot, into one that would struggle to even buy you a new TV. Seriously.
So today's timely little lottery tip is… try and avoid 'popular' numbers.
A lottery fairy will thank you for it 🙂