Share The Love - It Makes The Lottery Fairy Happy :-)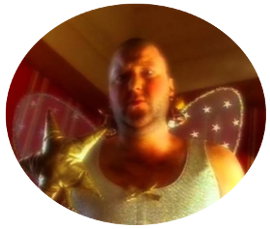 I've been helping people online with lottery questions and problems since 2003. Heck, I enjoy chatting to you folks - but it is good to be able to balance out all the bad advice out there.
You've probably noticed how much conflicting advice there is, right? Not to mention all the golden promises...
So if I managed to help you out today, that's awesome. But if you want to 'Pay It Forward' or share the love, then please do. It helps the good stuff to rise above the bad stuff - which in turn will help out a lot of other people too.
I've also heard it makes the Lottery Fairy happy. And you wouldn't want to upset him, I mean her, I mean... er...
Quick Ways To Share The Love:-
1. Facebook Like
One little button click and I instantly feel the love!

2. Tell Someone You Love
Know anyone else who plays the lottery? Send them to our free tips page, or to a relevant post on the blog somewhere.
3. Like My Page On Facebook
It's not particularly exciting yet, but one day it will become a hive of fascinating lottery insight. Maybe. It's here if you're a Facebooker type -> The Lottery Guy Facebook Page.
4. Any Favourites?
If you think any particular page would help people out, please share it. That can help a lot of people. My system reviews page for example has saved people a ton of wasted cash on junk lottery systems. As you can tell from the 621 (and counting) comments on the page..!
It's really easy to do on sites like Facebook. Just copy the link, and paste it in. Facebook makes it automatically look all nice.
5. Link to Anything!
If you're one of that strange breed of bloggers, I know your pain ;-), if you can spare a link to anything you think is cool on the site then that's hugely appreciated.
You don't have to write an epic unless you want to. Just a "Here's what I had for dinner etc etc, oh and by the way, this page here that I came across is reallllly cool..." - well that makes me happy for a whole week :-)
6. Are You a Tweeterer..? (can I ™ Tweeterer..??)
I do enjoy the odd Tweet, but if you can Tweet a page you liked too that would be really cool.
And you can of course follow me here - and I may even remember to follow you too.
Big Thank You From The Lottery Fairy
It's great to be able to help people who have been misled or even mis-sold dodgy lottery stuff. Or to help out with any lottery related questions or problems. So I'm happy that I was able to help you out anyway today.
But, thanks also for any sharing are able to do.
Here's a little happy go lucky entertainment to leave you with:-
You won't be able to get that tune out of your head for a week :-)