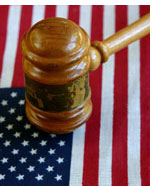 Those of you in the US will be well aware of what has become known as the 'anti online gambling law'. But you might not be aware of the work to challenge it. Well, we now have a court date!
For those that haven't heard of the anti online gambling law, you'll be stunned to find your American cousins are not allowed to play in online lottery syndicates, in any country, not even the US. Why? Because this piece of crazy all crushing law was snuck through, hidden beneath the SAFE Port Act – an entirely unrelated piece of legislation to improve security of US ports! It's interesting to note that the "Internet Gambling Prohibition and Enforcement Act" was previously rejected when it wasn't hidden under the carpet. (You can find the bill here at the Library of Congress).
Thankfully Lee Rousso, an attorney in Renton, WA has been successful in securing a hearing date to challenge the law. Yes, he's taking Washing State to court, in what will be the first challenge to this crazy piece of unwanted law. The hearing will be 21 September 2007. So mark your diaries cousin America, it could all change. (You can follow Rousso's progress here).
What do you think of the US 'anti online gambling law'? How have you been affected personally? Add you comments below.