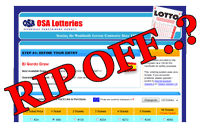 Have you ever used a company called 'OSA Lotteries'?
(I think the OSA stands for 'Overseas Subscribers Agents' or something similar)
Because Elaine, a subscriber to my lottery tips newsletter, asked me if they are any good.
Now I know they sell lottery tickets online for lotteries all over the world, and apparently do a lot of postal mailings too.
I've personally never used them, but I'm very interested to hear your experiences – because when I looked today…
I Was SHOCKED At The Prices They Charge!
Now Elaine was asking about the massively popular El Gordo Christmas lottery. This is the one that all of Spain go absolutely nuts about – mainly because it has the most ridiculously big prize pool you will have ever seen. I mean, what other lottery in the world has a prize pot of 2.3 BILLION!
The draw date is coming up fast on 22nd December, and tickets supplies are strictly limited for this draw.
So I checked out what OSA Lotteries are charging. And as I said, I was truly shocked. These guys are charging SEVEN TIMES the normal ticket price for their El Gordo lottery groups. No, really! (And their groups are 100 in size – which is too big).
Don't get me wrong – it's absolutely fair and necessary to charge extra.
Because there is a lot of admin and other overheads involved in running a lottery group, sourcing the tickets from Spain, checking results, claiming and distributing winnings. Clearly all this costs money.
But then why is it 'OSA Lotteries' that the e-Lottery syndicate people can do it all for a lot less than half of what you are charging..?
My advice to Elaine, stuff OSA, grab a place with e-Lottery before they sell out. (That's what I just did. And if you want a piece of crazy Spanish fun, you'll do the same)
So what do you think of OSA Lotteries? Have you ever used them? What did they charge, and for how many tickets and what size group?