It's crazy popular in Spain, and not greatly understood beyond those borders. But I have to admit, I love the bizarre old El Gordo Christmas lottery. It's €2.4 Billion of total wackiness.
I mean, just look at this – what other lottery draw creates this kind of build up? There's a rabid buzz in the air. People are foaming at the mouth and starting to go a little crazy…:-
This is a behind the scenes video shot during a previous draw. The draw machine is on stage somewhere behind all the mad melee.
This is El Gordo – Normal Rules Do Not Apply
For those who haven't seen it before, the level of excitement is pretty odd just for a lottery draw.
Spain as a whole loves the Christmas El Gordo lottery draw. It's part of being Spanish to play in this draw.
Note: I hope you love any products I recommend here as much as I do. But just so you know, this site may receive a small share of the purchase price if you do buy as a result of following a link on this page. It doesn't affect my opinion or the price you pay.
So What Is Christmas El Gordo?
As the name suggests this is a once per year special lottery draw. It's drawn on 22nd December every year in Spain.
What makes it totally unique is the incredible size of the prize fund – €2.4 BILLION. And the vast number of actual prizes it pays out – hundreds of jackpots alone.
It's also quite different in how you play it – as it's more of a 'raffle' than a traditional lottery game.
El Gordo Christmas Lottery Prizes
Here's just the top prizes for the Christmas El Gordo:-
170 x €4 Million prizes
170 x €1.25 Million prizes
170 x €500,000 prizes
340 x €200,000 prizes
1,360 x €60,000 prizes
304,980 x €1,000 prizes
Then there are all sort of bonus prizes for things like matching the numbers picked before and after the 3 major prize winning numbers (that's 340 x €20,000). And so it goes on.
So as you can see there are actually hundreds of jackpot prizes here. Nothing massive, just lots of them – which is just the way it should be. Who cares if 1 person wins 400 Million, I want to see 100 of you all win 4 Million instead!
In all there are nearly 3 million individual prizes paid out!
More Madness – The El Gordo Draw Process
It's also part of being Spanish to spend hours watching the big draw on TV.
And it does take hours too. About 3 hours in all.
That's because El Gordo pays out thousands of different prizes. And each prize is also drawn out of a ball machine too.
So first they draw a winning number from one machine, then the prize that ball has won from the next machine.
You already know your number has won, but you then have to sit and watch them draw the actual amount. It could be €100 or it could be €4 Million..!
Now there's a tense few seconds in anyones life…?
Here's a short video of the El Gordo draw in action. Bet you've never seen draw machines like this before:-
You can see (and hear) the school children from San Ildefonso school collecting the balls from the draw cages. And then singing out the winning results (in Spanish of course)!
It's tradition that pairs of children from the school are involved every year. They sing out the winning numbers whilst they deliver each of the lucky winning balls to the officials sat at their desk overseeing the madness.
The whole draw process goes on for THREE hours.
It's the World's LONGEST Lottery Draw.
There are 100,000 differently numbered balls in the large drum (the numbers that appear on your tickets), and the smaller drum contains balls marked with the prize amounts.
They draw thousands of numbers from a huge drum, and each one wins a different prize.
The whole draw takes place on TV, and all of Spain is gripped with excitement, for HOURS!
Here's another older video of the draw from back in 2009:-
It's like some weird mass hypnosis voodoo or something.
How To Play El Gordo Christmas Lottery
To play El Gordo you buy a ticket which already has the number printed on it like this:-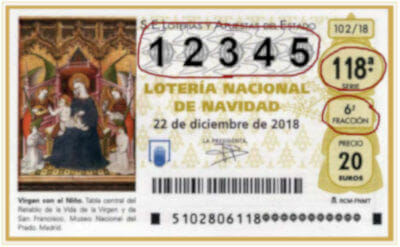 So the numbers that get drawn are those big 5 digit numbers at the top (in this case 12345). The numbers range from 00000 to 99999, and there is a lot of tradition and superstition around the numbers. Certain areas and families have been playing the same numbers for generations.
You can't choose any number yourself as the tickets come ready printed. You can only choose from the selection available at the store you buy from (in person in Spain or online).
So tickets are more expensive than most lottery draws, but it's great fun for a once a year punt.
WARNING: Buying El Gordo tickets online is a mine field!
You can buy tickets from various online ticket sellers. But what you get for your money does vary dramatically.
A standard 'decimo' ticket costs €20 if you buy it from a vendor in Spain. So if you can, buy them yourself or get a friend in Spain to.
Online, expect to pay double – that's normal. But don't get stung by the rip-off companies who charge a lot more than that (I've seen up to SEVEN times normal price before!).
This year I recommend you get your tickets from here. You get a fair price, and these guys have been around since 2002 (a lifetime in online terms).
Note for USA: sorry, but if you're in the USA, you're pretty much out of luck. Restrictions are so heavy for you folks living in the US now, that there is currently nowhere that I can recommend for you to get tickets (write to your Senator and ask them why they make it so hard for you to play in overseas lottery games, and what happened to the land of the free!).
Spanish Lottery's El Gordo Christmas Advert (2019)
Something else that is eagerly awaited each Christmas is the new El Gordo TV advert for the draw. It's always a very polished and expensive affair. This is a famous old Spanish institution after all (200 years of history right here). The adverts have become like mini-movies.
This year instead of one long advert we have a series of 4 shorter ones. No english subtitles yet, but if your Spanish is good, enjoy (or if you don't speak Spanish, enjoy last years ad with subtitles here):-
The 2018 Ad With Subtitles:-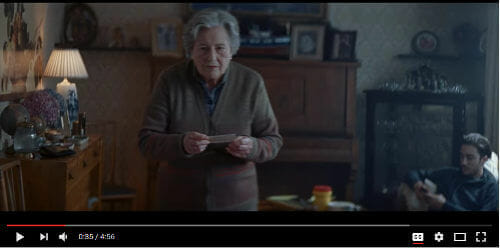 El Gordo Spanish Christmas Lottery Results
You probably won't see the El Gordo draw live, unless you have a satellite feed from Spain (or er, live there!). It's broadcast by TVE and RNE.
The results are also available from the Spanish lottery site after the draw is over (not quite as exciting). The english version of the site is here, but the translation is far from perfect.
El Gordo 2019 Results
Here's the results for the last draw, which was 22nd December 2019:-
Prize
Winning Numbers
2019 El Gordo Results
1st
26590
2nd
10989
3rd
00750
4th
41710, 49797
5th
06293, 23059, 54527, 66212, 69823, 74770, 75206, 81610

And here are some of the previous El Gordo results:-