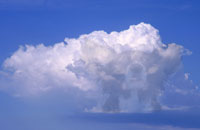 I see so much dumb totally made up lottery maths around, it's no wonder people get confused.
Just today I came across another 'system' teaching people to predict lottery numbers by using 'lottery sums'. What do they mean by using sums for the lottery?
In a nutshell the expert idiot writer meant adding up groups of past numbers, and making silly conclusions about them…
You sum (or 'add') the first two numbers, then the second and third groups of two numbers. Then you look at what range the sum totals fall into, and lo and behold based on the last 87 years results from the Albanian Mega-Super-De-Dooper Lotto… there is a pattern..!
Here's why lottery sums are so dumb:-
If you apply completely made up calculations with no logic behind them to sets of numbers in a fixed range – there will always be patterns, simply because the numbers are in a fixed range.
It's like looking at clouds and seeing faces, except cloud pictures are fun and not totally dumb…
You don't win anything for matching the sums, only for matching the actual results.
Just because they try and use complicated sounding maths terms like 'standard deviation' does NOT make them clever, or correct!
It's like saying 'pick only numbers between x and y because 70% of the past results are in that range' – yeah, great, that's because 70%  of any possible result is in that range too! What about the other 30%!?
Of course this kind of dumb analysis makes absolutely no difference at all to your chances of winning. Thankfully it can't make your chances any worse, but I guarantee it will NOT improve them either.
Hey, I just saw a cute little dog face in a cloud…