Mega Millions Facts & Statistics


Get Fast Facts About Mega Millions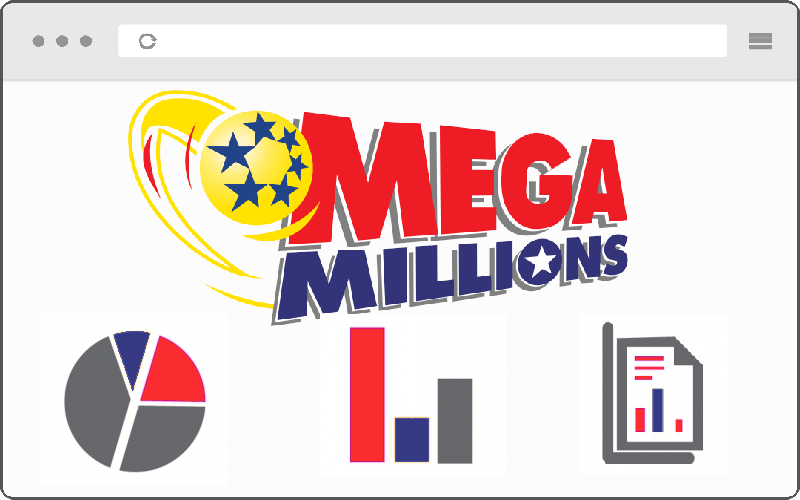 Basic game details, biggest winners, FAQs & more, all in one place
I think you'll agree with me when I say:
Mega Millions is one of the most popular lottery games in the world.
So I've rounded up all the useful facts, figures and statistics for the big game in one easy place.
Right here is my ultimate guide to Mega Millions.
Basic Game Facts
Quick Facts
Ticket Price
$2
Number Of US States/Territories Playing:
46
First Draw*
August 31, 1996
Biggest Ever Jackpot
$1.537 Billion
Odds Of Jackpot
302,575,350 to 1
Draw Format
5 balls from 70, plus 1 from 25
So to play Mega Millions you have to pick 5 numbers from a set of balls numbered 1 to 70, plus an additional number (the Mega Ball) from a second set of balls numbered 1 to 25.
There are then 9 different ways to win, ranging from matching just the Mega Ball right up to matching the 5 main balls plus the Mega Ball - which pays out the jackpot.
Biggest Winners
For a Mega game you'd expect some mega prizes, and Mega Millions has paid out some whoppers.
The biggest ever jackpot was an incredible $1.537 Billion (yes, that is correct, one thousand, five hundred and thirty seven Million!). It was won in October 2018 by a single ticket, bought in South Carolina, one of the few US states that allow winners to remain anonymous. And that's what this particular winner (wisely) chose to do. So we don't know who they were, but we do know that they chose the lump sum payout so received $877,784,124. Which is the biggest jackpot paid to one winner in US history.
The second largest jackpot wasn't quite so big, but still an enormous $656 Million. It was won back on March 30, 2012 and shared between 3 winning tickets. One was a player who chose to remain anonymous from Kansas. The second was Merle and Patricia Butler in Illinois. And the third was a small syndicate group of 3 teachers in Maryland calling themselves 'The Three Amigos'.
The third largest jackpot was an almost as huge $648 Million. It was won the following year on December 17, 2013 by two tickets. The winners were Steve Tran of Northern California and Ira Curry of Stone Mountain, Georgia.
Top 10 Jackpots
Mega Millions Top 10 Biggest Jackpots
Jackpot
Date Won
Winning Tickets
Locations
$1.537 Billion
October 23, 2018
1
SC
$656 Million
March 30, 2012
3
IL, KS, MD
$648 Million
December 17, 2013
2
CA, GA
$543 Million
July 24, 2018
1
CA
$536 Million
July 8, 2016
1
IN
$533 Million
March 30, 2018
1
NJ
$522 Million
June 7, 2019
1
CA
$451 Million
January 5, 2018
1
FL
$437 Million
January 1, 2019
1
NY
$414 Million
March 18, 2014
2
FL, MD
Using This Table
You can use this table, please just reference this page as the original source.
Fascinating & Fun Facts
The 6 stars in the Mega Millions logo are to represent states that were the original members of the consortium that started the game.
There was a jackpot winner on the very first draw as Mega Millions on May 17, 2002. It was won by a player in Illinois who won $28 Million.
So far the largest ever Mega Millions jackpot ($1.537 Billion) remains the world's biggest lottery jackpot - it was won using a 'Quick Pick' ticket.
Unlucky for none..? There have been 6 Mega Millions jackpots won on a Friday the 13th. And Michigan claimed 4 of them - go Wolverines!
So far, 24 states have had jackpot winners (here's which states have won jackpots).
Only players in Georgia, New Jersey, and Texas have to decide when they buy a ticket if they want the jackpot paid as a lump sum or annuity. Everyone else can decide after they win.
Interesting Statistics
The most drawn main number is ball 62 which has been drawn 23 times so far (since the last game format change).
The least drawn main number is ball 35 at only 6 times so far.
For the Mega Ball - the most drawn number is Mega Ball 10, drawn 12 times - and the least drawn is Mega Ball 8 at 3 times.
Ball 60 hasn't been drawn since March 22, 2019 - and Mega Ball 8 since August 24, 2018!
Prizes & Odds
Under the latest rules the Mega Millions jackpot starts at $40 Million. If it's not won then the jackpot 'rolls over' and is added to the next draw. This keeps happening until it gets won. So jackpot prizes are regularly much bigger than the starting amount.
The quoted jackpot amount is actually an annuity amount (i.e. 30 yearly payments). But players can also choose to receive a cash lump sum instead.
Interestingly, in Georgia, New Jersey, and Texas you have to choose in advance whether you want the lump sum or annuity. Everywhere else you can choose after winning.
Here is the full prize list plus odds of winning:-
Mega Millions Prizes & Odds
Match
Odds
Prize
5 Main + Mega Ball
1 in 302,575,350
Jackpot
5 Main
1 in 12,607,306
$1,000,000
4 Main + Mega Ball
1 in 931,001
$10,000
4 Main
1 in 38,792
$500
3 Main + Mega Ball
1 in 14,547
$200
3 Main
1 in 606
$10
2 Main + Mega Ball
1 in 693
$10
1 Main + Mega Ball
1 in 89
$4
Mega Ball
1 in 37
$2
Add-On Games
Megaplier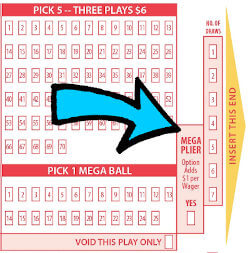 This add-on game is available everywhere but California. For an extra $1 per play (i.e. $3 instead of $2) this will boost up any non-jackpot prize you win. The boosted amount can be 2, 3, 4 or 5 times - the Megaplier amount is randomly generated each draw.
Megaplier was launched back in January 2011, and initially only offered in Texas.
Just The Jackpot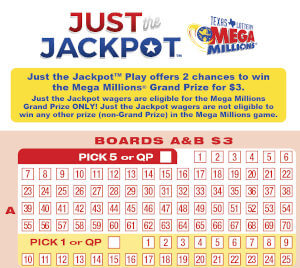 With Just The Jackpot players get two plays for $3. But as the name suggests they are only playing for the jackpot prize, these tickets are not valid for any smaller prizes.
This add-on game is available in Georgia, Indiana, Kansas, Kentucky, Massachusetts, Nebraska, New Jersey, New Mexico, New York, Ohio, South Dakota, Texas, Virginia, Wisconsin and Wyoming.
Mega Millions History
Mega Millions actually started out under the name of The Big Game way back in 1996.
It was then briefly The Big Game Mega Millions - not very catchy! - whilst it transitioned over to the name we all know it by today, Mega Millions.
Name Changes By Date
August 31, 1996

The Big Game

May 15, 2002

The Big Game Mega Millions

February 2003

Mega Millions
Game Format History
Mega Millions has changed the format of the draw a number of times over it's history.
Generally the jackpot has got progressively harder to win, which results in more rollovers and bigger jackpots.
Date
Game Format
Jackpot Odds
Ticket Price
Game Format Changes
October 31, 2017 - now
5 from 70 + 1 from 25
1 in 302,575,350
$2
October 22, 2013 - October 27, 2017
5 from 75 + 1 from 15
1 in 181,545,210
$1
June 24, 2005 - October 18, 2013
5 from 56 + 1 from 46
1 in 175,711,536
$1
May 17, 2002 - June 21, 2005
5 from 52 + 1 from 52
1 in 135,145,920
$1
January 15, 1999 - May 14, 2002
5 from 50 + 1 from 36
1 in 76,275,360
$1
September 6, 1996 - January 12, 1999
5 from 50 + 1 from 25
1 in 52,969,000
$1
Frequently Asked Questions (FAQ)
What's the highest number in Mega Millions? How high do the numbers go?
It's currently 70 (the main balls are numbered 1 to 70). You can see the full game structure details here.
How does the Mega Millions work?
The main balls are numbered 1 to 70, and 5 balls are picked from this range. Then a 'Mega Ball' is picked from a second set of balls, numbered 1 to 25. To win the jackpot you have to match the 5 main balls plus the Mega Ball.
What states have won Mega Millions?
So far, 24 states have won a jackpot with Mega Millions. In alphabetical order, they are: Arkansas, California, Florida, Georgia, Idaho, Illinois, Indiana, Kansas, Maryland, Massachusetts, Michigan, Missouri, New Hampshire, New Jersey, New York, North Carolina, Ohio, Pennsylvania, Rhode Island, South Carolina, Tennessee, Texas, Virginia and Washington.
Are there any states that have never won Mega Millions?
Yes, absolutely. We're still waiting for jackpot winners from Arizona, Connecticut, Colorado, Delaware, Iowa, Kentucky, Louisiana, Maine, Montana, Nebraska, New Mexico, North Dakota, Oklahoma, Oregon, South Dakota, Vermont, West Virginia, Wisconsin and Wyoming. Plus the District of Columbia and the US Virgin Islands. So 21 states/territories still to go - wish them luck!
How many states play Mega Millions? Is Mega Millions nationwide?
There are 44 states where you can play Mega Millions. Plus two territories - the District of Columbia and the US Virgin Islands.
How many states don't play Mega Millions?
There are now only 6 states where you can't play, they are:
Alabama
Alaska
Hawaii
Mississippi
Nevada
Utah
What days of the week is Mega Millions drawn? What time is the drawing?
The big draw is 11pm EST every Tuesday and Friday.
What is the cutoff time to buy mega millions tickets
It varies by state, but is between 15 minutes and 1 hour before the draw takes place.
Where do they draw the Mega Millions numbers?
The actual draw is held at WSB-TV in Midtown Atlanta, Georgia - it's carried out by the Georgia Lottery.
What happens to unclaimed Mega Millions jackpots?
Each of the 46 lottery companies get back the share of the jackpot that they generated. It is up to each state what they do with the funds. Some states use the funds for bonus prizes or second chance draws, while others use it for education funding.
Which states allow Mega Millions winners to remain anonymous?
Sadly only 8 states currently allow anonymity when claiming lottery prizes. These are Delaware, Georgia, Kansas, Maryland, North Dakota, Ohio, South Carolina and Texas.
Can you do quick pick for Mega Millions?
Yes, you can. And some of the largest Mega Millions prizes have been won just using a Quick Pick.
What wins on Mega Millions?
If you match the Mega Ball, any main numbers plus the Mega Ball or at least 3 main numbers without the Mega Ball then you win something. See the full prize table here. You don't win anything for matching just 1 or 2 main numbers on their own.
Can the Mega Ball be the same number?
The Mega Ball CAN be the same number as one of the main numbers. This is because the Mega Ball is picked from a different set of balls to the main numbers.
Do the Mega Millions numbers have to be in order?
No, you don't have to match numbers in the order they are drawn. Just match the numbers drawn :-)
How much is 3 numbers in Mega Millions?
Matching 3 main numbers (and not the Mega Ball) wins $10. You can see the full prize table here.
How much do you win if you get 2 numbers in Mega Millions? Does 2 numbers win anything?
Just 2 main numbers without the Mega Ball unfortunately does not win anything. If you got 1 main number plus the Mega Ball though, that does at least win something (see the full prize table here).
What happens if you get the Mega Ball number only?
You win $2. Hey, at least it's a free ticket :-)
References
Our thanks to the official Mega Millions website for their help with data and research.