How To Buy EuroMillions Tickets Online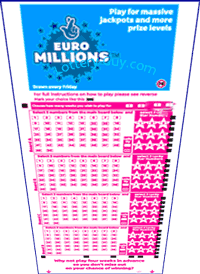 So you want to buy EuroMillions tickets but want the convenience of getting them online.
That's OK, but just Be Prepared for this...
IMPORTANT NOTE: It is cheapest to buy EuroMillions tickets from local official lottery outlets.
But this option is of course only available IF you live in a country that sells them. If not, read on.
OK, so you don't live in a country that sells EuroMillions tickets. Here's what you can do:
Option 1
You can use an online ticket buying service. Buying EuroMillions tickets online is of course going to cost you more than the normal ticket price.
BUT some places are a LOT cheaper and safer than others!
OK, here are your best choices:-
Just to be clear - by 'ticket' I mean one combination, line or entry. It's all the same thing :-)
Can You Trust These Sites?
If you choose carefully and go by recommendations, then yes you can. If you randomly Google for ticket sellers then you're going to have problems! There are a lot of dodgy ticket sellers around now.
The sites I recommend above are well established, and have a LOT of happy customers. TheLotter for example has been providing lottery ticket services for over 15 years now. They have also had some very public big jackpot winners such as this one, which has also been widely reported by the newspapers.
Option 2
Consider playing in an online EuroMillions syndicate.
This can sometimes work out cheaper than other online options. Plus of course it gives you a better chance of winning too as you team up to buy more tickets than you normally would.
You can find my current favourite syndicate options here. These let do everything online, give you plenty of game options and they pay all winnings directly to your bank account.
Let me know how you get on.