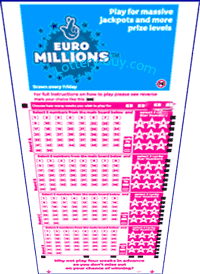 If you want to play EuroMillions today you better be quick. Those lottery terminals are taking a real battering.
That jackpot has now rolled over 5 times since the last jackpot winner on July 18. Which now gives you a chance at an enormous prize pool of 114 million Euros.
And if a single player were to pick the winning numbers, it would be the largest lottery prize in the world. Ever. Coutts & Co (bankers for the Queen of England) say the winner could earn over 16,000 Euros a DAY just in interest alone. Not bad for a quick pick eh?
That's assuming of course the winner didn't spend a few million straight off buying the big house, the cars, houses for friends and family, charity donations etc.
So what would you do with your leftover 10,000 Euros a DAY..?
If you want to play EuroMillions tonight, think about joining my favourite EuroMillions syndicate – you get a better chance of winning, and can still end up with millions in your pocket after sharing!