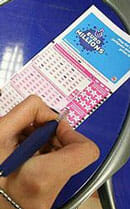 In case you missed it, EuroMillions rolled over again last week.
Which makes the jackpot this Friday one of the biggest seen at a rather crazy €129 Million.
UK players are hoping this will be a home win, creating the largest UK EuroMillions winner ever. The current record holder is Les Scadding from Newport in South Wales who banked a mere £45.5 Million in November 2009. If a single player hit the jackpot this Friday they would win around £113 Million.
Want To Play..?
If you want to play this Friday but with a better chance of winning. And you wouldn't mind sharing the jackpot, then think about playing with these guys. You get 36 times the chance of winning, and you could still walk away with a couple of million each.