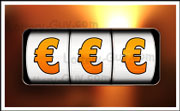 EuroMillions fever hits again as last weeks huge jackpot rolled over again.
This Friday (8th May) sees the jackpot reach an enormous 123 Million Euros. The third largest in the history of EuroMillions.
Ticket sales will reach FOUR times a normal week for EuroMillions, with peaks of up to two and a half million tickets an hour.
World's Biggest Lottery Winner?
If one winner were to scoop the jackpot, they would instantly go down in history as the biggest lottery winner in the world.
Previous huge jackpots have (thankfully) been shared between multiple winners. After all, nobody really needs 123 Million to themselves, do they!?
Share The Pot Of Gold
Imagine 123 jackpot winners all taking home a million each. Or how about 23 individual winners plus 2 lottery syndicates of 50 people each. Everybody gets a million. Better?
But if you want to play, don't wait, those lottery terminals will be crazy busy closer to the draw time.
You can play online here in my favourite EuroMillions syndicate.