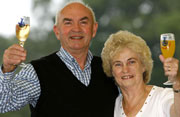 He may be 33 and still live at home with his mum and dad, but his parents Bob and Pat Green are now lottery winners with an extra £2.3 million to their name.
"We've lived in the same house 20 years and Stewart still lives with us" said Bob, 64, of Horsham. "He is not engaged or married, so if there is anybody who can help him out, he's looking for a rich lady with sporting interests". Bob may have been joking, but thankfully Stewart's two older sisters have left home.
Bob and wife Pat, 65, own and run a garage together, and say they will carry on working as they love it so will keep on running the business for as long as they enjoy it.
As to what the lottery winners plan to do with the money, Bob, self-confessed motorbike nut, says "I don't know what we'll spend it on yet, but we've booked a holiday to the Isle of Man TT races next year" – and he does plan to add another motorbike to his collection.
Their selected winning numbers were chosen at random, although Bob was nearly in trouble as he had been suggesting they try changing them as they never won…
Of course you and I know keeping the same numbers or changing them is not going to affect what comes out of the ball machine. So they were just as likely to win if they had changed their numbers – maybe they would have won last week instead!
So do you stick with the same numbers every week? Or do you think it's superstitious nonsense to avoid changing your numbers? Let me know what you think.