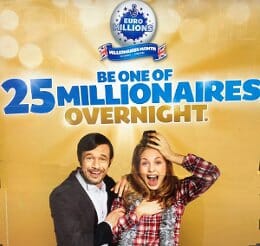 It's another EuroMillions Superdraw – which means this Friday will crown 25 ticket holders as instant Millionaires.
But this is also on top of the normal jackpot draw, currently sitting at a cool €29 Million.
How come you've not heard about it.
Because only UK players get a chance for these bonus EuroMillions prizes.
(Tip: I'll tell you in a moment how you can play in this draw from outside the UK – it's easier than you think)
The UK has an add-on game called Millionaires Raffle – every EuroMillions ticket bought in the UK gets printed with an extra unique raffle number. And one of those numbers wins £1 Million every single draw (Tuesday and Friday).
The big deal though is this Friday (23rd December).
Because this Friday is Millionaire Friday.
EuroMillions (UK) are paying out 25 x £1 Million prizes for this draw only!
Now that has to be a draw worth playing.
There's THREE extremely good reasons why.
1. For exactly the same ticket price, you now get 25 times the chance to win a million. On top of your chances of winning EuroMillions itself of course.
(Technically it's not exactly 25 times because more people will play this draw than normal, so it may be more like 15 – 20 times, but I'm not complaining!)
2. This bonus game is a raffle (like a prize draw) not a lottery. Which means 25 tickets in this draw must win a million.
3. Only the UK play Millionaires Raffle. And they are only 1 of the 9 countries who play EuroMillions. Which means you already beat the other 8 countries to the money if you buy a ticket in the UK.
Buying EuroMillions Tickets From The UK
If you live in the UK, no problem, you can get your tickets anywhere and you're OK. (Or you can buy online from the official national lottery site too).
Outside the UK, you still have some options.
Get a friend in the UK to buy tickets for you. Make that a trusted friend.
Buy online from a 3rd party ticket seller. Typical an expensive way to play, but sadly I couldn't find any that bought their tickets in the UK anyway – so if you know one add a comment below and I'll let everyone know.
Play in a syndicate that buys tickets in the UK. You can find the sydicates I've used before here. All are good reliable syndicates so choose the one you like best.
Play This Draw – It's A Gift!
Look, it's not often you get these 'Superdraws' so don't miss them when they come up.
This is a no cost way to instantly get a significantly better chance of winning. Which is just the right kind of occasion to be spending your squirreled away winnings pot.
You know, the 'save the small wins for a Superdraw' pot.
Unless you already spent it on pizza 🙂