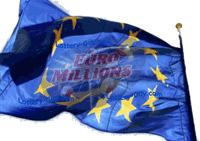 No sooner has one enormous EuroMillions jackpot been won (not that the normal 15 million jackpots are small!), but WHAM, they then go and announce a EuroMillions SuperDraw.
So what is a SuperDraw?
Two important things. First, it basically means a very big jackpot – this time it's 125 Million Euros. And that's a good time to play your saved up entries.
But second, and most important of all. It means a guaranteed jackpot payout, and that can be very exciting indeed.
Normally when nobody matches the 5 numbers and 2 lucky stars, the jackpot prize pool rolls over to the next draw. That's what a 'rollover' is, and how we got to last weeks huge jackpot when it rolled over five times in a row.
But with a Superdraw, EuroMillions will pay out that 125 million GUARANTEED. So if nobody matches the 5 numbers and 2 lucky stars, that 125 million is rolled down to the next prize level, and the next prize level, until they find someone they can give it to!
They normally only do this after 11 rollovers!
Essentially that means you could have a much better chance of winning the jackpot in a SuperDraw. Why? If you assume nobody matches all the numbers, then you have less numbers to match than usual to get the jackpot, and a huge jackpot too.
That makes a EuroMillions Superdraw a very special beast, and one I recommend playing.
Play in my favourite syndicate and you get enough entries to guarantee you match both lucky stars anyway – so add that to a SuperDraw, and things get pretty exciting. If you want to play with us you can join here (don't hang around though, the big day is Friday 26th September 2008 so you want to make sure you are in well before then).