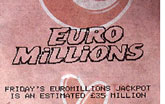 EuroMillions have a very special draw this Friday. Special for TWO very important reasons.
[1] The jackpot is a massive 130 Million Euros
Just imagine what you could do with even a small share of that?
[2] This Friday is a SuperDraw (read on to find why that is so special…)
SuperDraws Are VERY RARE!
They only do a couple of SuperDraws per YEAR. And when they do, we all want tickets!
SuperDraws are special because the jackpot CANNOT rollover. If nobody gets the full winning numbers, they give the jackpot away to the next prize level down!
That means your chances of winning 130 Million could be so much better than normal, for this Friday only.
Obviously, you should play in this draw!
Do NOT Wait, The Lottery Terminals Will Get Busy
Get your tickets for this draw today, because as we have seen in the past, big rollovers mean a last minute rush to buy tickets. Websites get slower, and lottery terminals have been known to fail under the load. That could mean you miss out if you wait.
You should do this now, either:-
[1] Buy tickets today before your local retailer gets too busy!
[2] Join a syndicate right now, today… go here for 36 EuroMillions entries for 5 UK pounds (NOTE: Sorry, NOT available to USA)
or,
[3] Buy tickets online, but do it today as the sites will get swamped later this week. Here's a guide to buying EuroMillions tickets online
Hurry though, you only have a few days left.