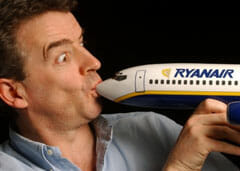 Last week a Ryanair passenger gets so angry he eats his winning lottery ticket.
This week Ryanair gets hit by 50 claims to have been that angry customer. And can they have the money please.
Now I'm sure budget airline Ryanair is used to angry passengers… but normally passengers can correctly recall what they were angry about. Amusingly, only 10 of the wannabe scratchcard munchers were even passengers on the Poland to UK flight!
Unfortunately none of the remaining 10 bizarre claimants will be getting the money either. Ryanair confirmed that without being able to produce the winning ticket, the claim cannot be verified. A spokesman for Ryanair said:
Unfortunately, when the passenger ate his scratch card he chewed away his chance to pick up the €10,000 cash prize, which will now go to charity.
The moral of the tale being either a) don't drink while flying, or b) it's worth investing in that anger management counselling before you hit the jackpot.