Love My Lotto?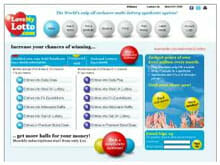 Long time readers of the Lottery Guy blog will know I'm a fan of syndicates. They just make sense for most people. You pool your money to buy more tickets - you get a better chance of winning without breaking the bank.
So when a new professional lottery syndicate arrives complete with a fanfare and fancy TV adverts, it's pretty big news.
Cue... Love My Lotto, the new 'multi-lottery' syndicate.
I'll give a more detailed opinion on this one once I've had a good look at it from the inside (but here's a detailed Love My Lotto review ). In short Love My Lotto play the UK Lotto, EuroMillions, Millionaires Raffle, Daily Draw and Premium Bonds. And you can join from just £12 a month.
I joined already and my syndicate numbers were quickly allocated. So far so good. More on this one soon.