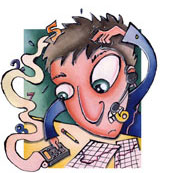 This is one of those lottery questions that can make your head spin. Should I play the same lottery numbers or change them? It can turn your brain inside out if you overthink it…
If my numbers haven't come up yet, surely they are more likely to in future, so I should stick to playing my selected numbers right?
If I keep changing my numbers isn't that like two lots of numbers changing making it even harder to win?
Sounds plausible. But sometimes we can overanalyse a problem!
The fact is, past results have no bearing whatsoever on future results. They simply can't. Because underneath those lovely numbers… it's just balls.
(Even if they seem to make those pretty patterns when you really, really look for them…)
They're just little round balls bouncing around inside a draw machine. And those balls have no memory. They aren't all polite and considerate, and therefore take it in turns to be drawn! They don't know or care about the law of averages.
So is it better to play the same lottery numbers every week?
Each draw is a unique, random event. So it actually doesn't matter.
If you play the same numbers each draw, or change them every week – it makes no difference.
Because each set of numbers always has exactly the same chance of being drawn. And each draw is a single unique event. Simple as that.
So if you like the the numbers you have chosen, by all means keep them and play them every time. It won't do you any harm.
But equally, if you like changing your numbers once in a while, or every single draw – feel free, because that isn't going to hurt you either.
There are some reasons not to pick certain numbers (clue: think popular!), but I'll talk more about those reasons another time (or you can read about that and lots more in my Lottery Strategy Group).
Got a lottery question you'd like answered? Either add a comment below, or submit your question here.